On a daily basis, I am asked to wash and wax cars. I always ask my clients; did you know that there is a better longer lasting protection available? Many consumers are unaware of the differences between protections available, durability and length of protection. My objective is to simplify the protections available and let you decide for yourself which is best for you.
Before protection is applied to any vehicle surface, it must be cleaned free from surface contaminants. The most common contaminants are grime, tar, iron found on most daily driver vehicles. The vehicle is then washed and clay bared to thoroughly exfoliate the paint and prepare the painted surface for buffing. In most all situations polishing is recommended to remove any contamination defects, deep clean the paint and provide a high gloss shine. Thorough paint preparation is necessary for any protection to properly bond to the painted surface.
Today there are four clear levels of paint protection, ceramic coatings, polymer paint sealant, spray sealants, and wax.
Ceramic Coatings – Offering Gtechniq Product Protection
Ceramic coatings offer you incredible UV protection with heat resistance at 1600 degrees and above, a high wet gloss look, ease of maintenance due to the hydrophobic qualities created and years of durability. Coatings are said to be scratch resistant, and this is just not true. Ceramics are the best paint protection available but are not for everyone, since they still require regular and proper washing care. Given the higher associated costs, ceramic coatings are not always in the best interest for you as the consumer. If adequate care is not adhered to, ceramic coatings will still stain, water spot and long-lasting qualities can also be diminished.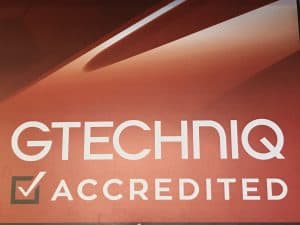 Many detail installers and auto dealers overstate the protection qualities of ceramic coatings due to the higher costs and profits associated with these products.
Preparation of the painted surfaces is very time consuming and intensive because the surfaces must be deep cleaned thoroughly for the ceramic coating to bond and last as promised.
I highly recommend ceramic coating for garage queens, weekend fair weather drivers and show cars. As for daily drivers, I will recommend ceramics if you are the type of person that would be inclined to adhere to proper washing maintenance or hire us for your professional maintenance care. We will always thoroughly discuss the pros and cons prior to installation. It is essential to know that I am always working with your best interest in mind.
Polymer Paint Sealants – Offering Jescar
This is the most recommended protection at our shop. The polymer paint sealant applied is heat resistant to 400 degrees, has very good UV protection and offers a very high gloss shine. Protection easily lasts nine months to one year with average washing maintenance and in some cases up to sixteen months with proper care. The benefits and cost efficiency match up well for most of our clients as many enjoy coming back to visit us annually for professional maintenance inside and out on their vehicles.
Spray Sealants – Offering GTechniq
Spray sealants offer good UV protection and up to six months of paint protection. Sealants are a great option for those who prefer professional maintenance every three to six months or need to keep costs within their budget.
Wax – No longer Offered
We no longer offer wax due to the fact that it only lasts thirty to sixty days and just does not make any practical sense. We can provide you with better protection for the same cost and less since the time for application and removal is the same as polymer paint sealant. Wax is now just a term consumer use when asking for service and protection. As a pro detailer stated on one of the industry forums, "Applying wax for protection is like watching black and white TV."
Love a Pro Detailer with a Serious Attitude, Forever You will Shine!